Time to Wet a Line: Fly Fishing 101
Note from the CANIS Team: CANIS Team member John Michael Rusch not only is a solid contributor to our Brand Management Team but has been a fly fishing guide at Spring Valley Rod and Gun Club in Arkansas and Oklahoma for the past 4 years. He is our resident "Fish Whisperer" and has compiled the below for anyone looking to get into fly fishing this year. As always, if you have any questions, reach out to our CANIS Team at info@canisathlete.com.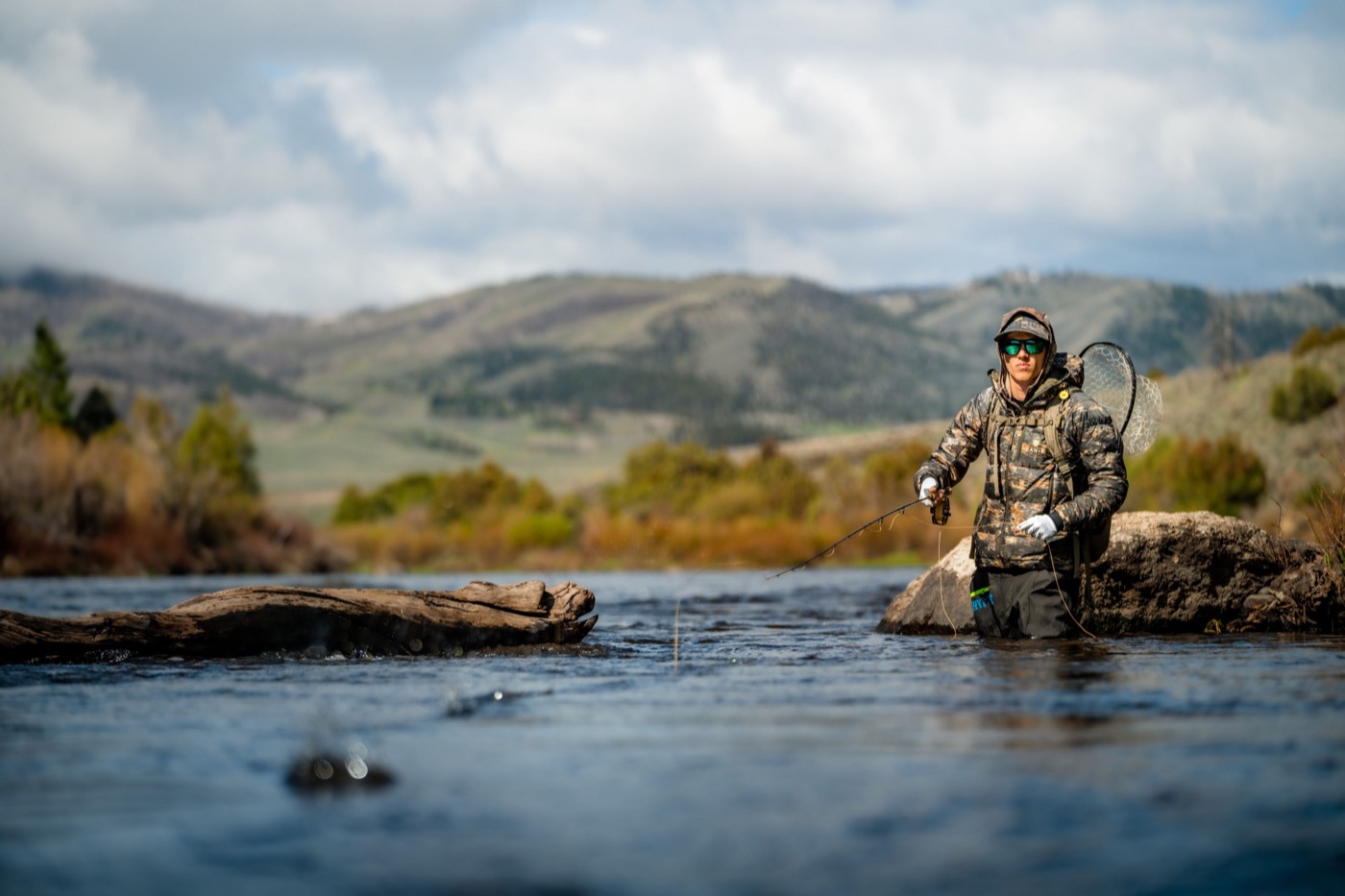 Fly Rod
There are so many solid options nowadays in the rod, reel, and line industry. Pretty much every company makes great products and when it comes to purchasing your first set-up, a lot of the decision making will be based on personal preference and what fits your casting stroke best. There are 3 general types of fly rods: slow, medium-action, and fast-action rods. Each style of rod has a purpose for a style of fishing, conditions you are fishing in, what fits your casting stroke, and what feels good in your hands. For a beginner, a medium-fast action rod will be the most forgiving and easiest to improve your cast as well as perform in all conditions and fishing styles.
A 9ft-5wt-4pc fly rod is the best all around "fish everything" rod and will be the "go-to" for your local trout stream or your neighborhood pond. If you live in an area where the fish are a little bigger, the winds are heavier, the water is wider, and the flies need to be quite a bit bigger, the 9ft-8wt-4pc fly rod is going to be your best friend. It will rocket casts out in high winds, deliver big wind-resistant flies, and put the hammer down on some bigger aquatic creatures. It works great for big salmon and steelhead, bonefish, redfish, chucking streamers at big brown trout and bass, and everything in between.
Ordering online is easier than ever these days but when it comes to fly fishing gear it can get very overwhelming. If you are feeling at all uneasy, go to your local fly shop and chat with the guys there and they will be able to help fit you with the best starter setup. Plus, it's always good to support your local fly shop.
I recommend:
Orvis Recon 5-weight 9' Fly Rod
Orvis Recon 8-weight 9' Fly Rod
Fly Reel
For most freshwater-fishing applications, the primary function of the reel is to hold your fly line and backing. Most trout and smaller bass will not fight hard enough to where you need heavy drag settings. There are a couple different styles of freshwater fly reels. The most common ones you will see are the traditional click-and-pawl reel which do not have an adjustable drag. These reels have one drag resistance and when you need to apply more pressure to a fish you simply just cup the spool on the reel with your palm which will increase the drag and put more pressure on the fish. The second type of reel is the disc-drag fly reel, which consists of a number of discs within the reel to create various levels of pressure and resistance with a turn of a knob. To adjust the drag on a disc-drag reel you will turn the drag knob on the side of the reel to find the right drag setting to apply the correct amount of pressure to a fish in order to protect your tippet and not lose the fish. Again, in most trout and bass fishing scenarios, you will not be relying on your reel's drag because those fish typically do not fight hard enough to make it a necessity.
When fishing in the saltwater and bigger freshwater fish, your reel is the most important piece of gear you have. A reel with a good sealed disc drag system is crucial. Fish in the ocean are bigger, fight harder, and have an infinite amount of water to run off in. This is where having a trustworthy reel is going to be at the utmost of importance. Almost every company makes great reels with great drag systems, but you get what you pay for in the fly fishing industry and purchasing a good reel for saltwater and big freshwater applications is very important.
I recommend:
Click-and-pawl: Ross Colorado Fly Reel
Disc Drag: Orvis Hydros Reel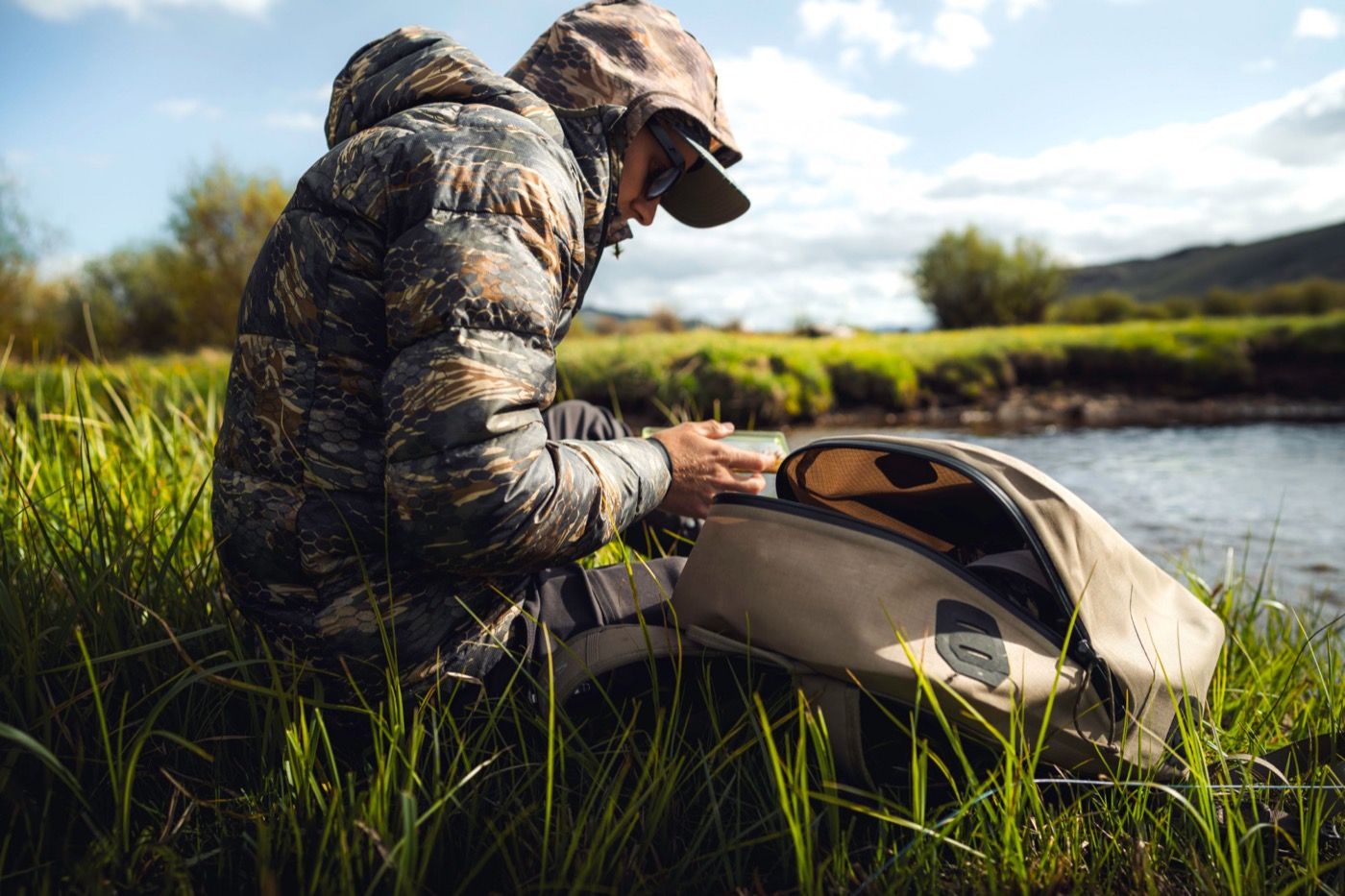 Fly Line
Pairing your fly rod and reel with the correct fly line is very important. The fly line is what delivers your fly to the water and hopefully into a fish's mouth. Each fly rod weight has a specific corresponding fly line size that is made to perfectly match the action of the fly rod. For example, if you buy a 5wt-fly rod you will want to match that with a 5wt-fly line. There are multiple different kinds of fly lines, each having a specific purpose and application. The most common and all around "stud" of fly lines is the weight forward (WF) tapered fly line. In most cases, and depending on the action of your rod, it is smart to buy a fly line that is ½ size heavy. For beginners this makes casting much easier and better loads the rod.
For fly line, Companies make lines that are sized up a half size. I recommend starting with one of the ones below.
Leaders and Tippet
The leader is what you connect to your fly line and attach your fly too. It is tapered down to a particular tippet size ranging anywhere from 0X to 8X, the smaller the number the stronger the tippet. Once you cut all the pre-set tippet off your leading from changing flies you can attach new snippet sections. The most common leader and tippet sizes for trout are:
3X
4X
5X
6X
I would recommend having a spool of tippets and a couple leaders in each one of those sizes.
Flies
You can't catch a fish if you don't have a fly on, safe to say, flies are pretty darn important. When it comes to selecting the "perfect" arsenal of flies you can try to come close, but let's face it, there will always be that time when what the fish are biting on just isn't in your box.
Choosing your fly selection is all based on what your target species is, the time of year, what body of water you are fishing, and what critters call that body of water home.
Freshwater:
Trout are picky fish and having the right fly and a perfect presentation is crucial if you want to catch fish. There are three basic types of trout flies: Nymphs, Dry Flies, and Streamers. It is said that 90-95% of a trout's diet consists of aquatic nymphs under the surface. Some common trout nymphs that every angler should have in their box are:
Elk Hair Caddis
Parachute Adams
Wooly Bugger (olive, black, and white)
Prince Nymph
Midge (multiple color variations/ size)
Copper John
Pheasant Tail Nymph
Clouser Minnow (chartreuse and white is the only way to go)
With these flies in your box, you should be able to have a good shot at catching trout anywhere in the country. Your local fly shop is the best place to buy your flies, they will also be able to tell you what has been hot in the local waters.
Saltwater:
Fishing in the salt is hard, and the flies you use really depend on the fish you are targeting. Destination trips (most saltwater excursions) will come with a packing list and, depending on the outfitter, flies will either be provided or you must bring your own. In most cases they will provide you with a fly list and have a small fly shop at the lodge where you can load up all kinds of flies for your trip. The most common saltwater flies are crabs, shrimp, worms, baitfish, and deceiver style flies. Saltwater flies are tied with a heavy gauge, corrosion-resistant hook to hold up to the salt and the strength of the fish that live in the ocean.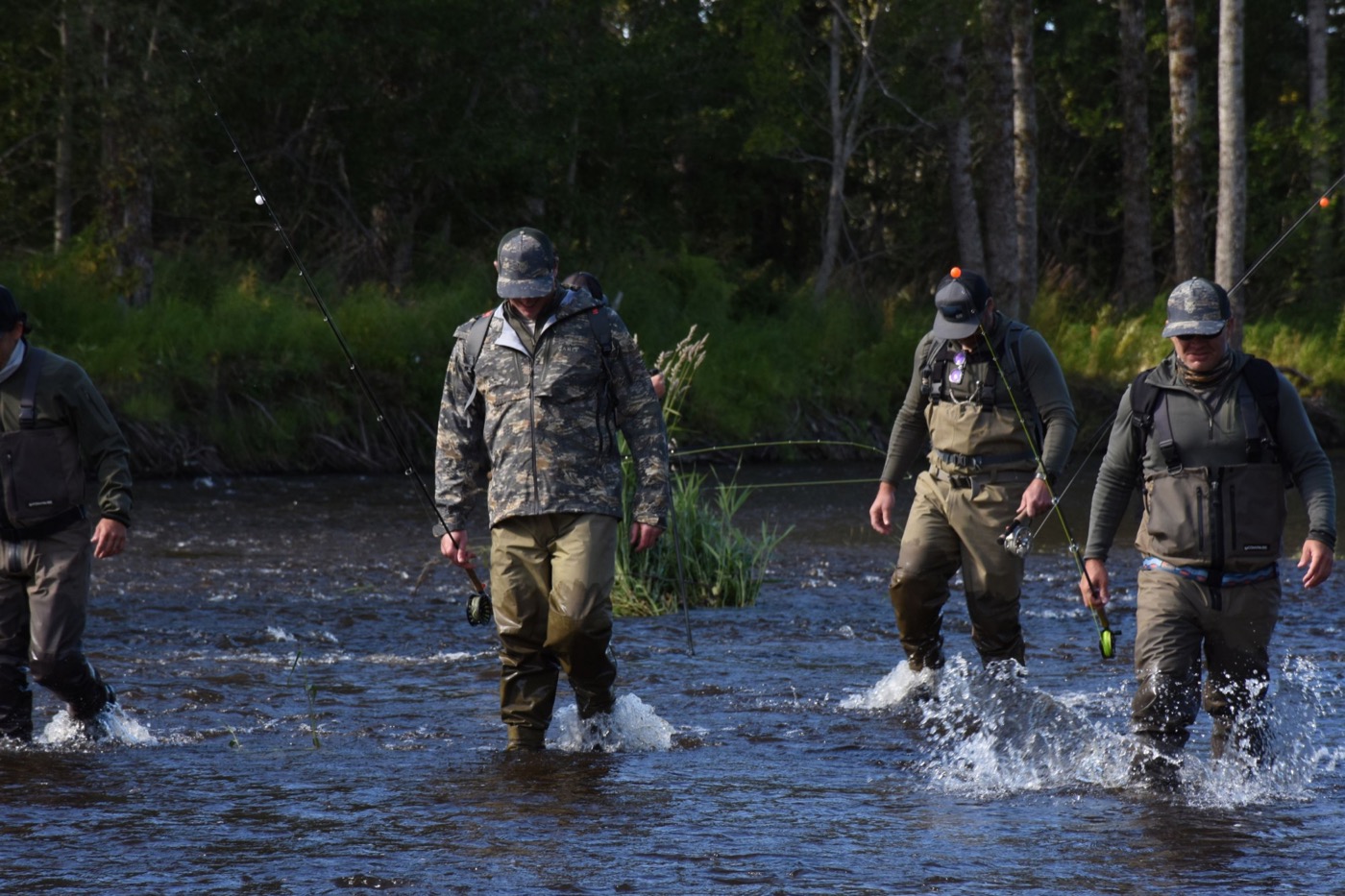 Clothing
Clothing is all weather dependent but it is best to be prepared for anything. In the heat of the summer you don't need much more than a pair of shorts or light weight pants and a long sleeve shirt to keep the sun off you. If it's the winter time (yes, you can fish year-around), standing in a river can make the temperature feel about 10-15 degrees colder so you will want to layer up. Always, always, always, bring a rain jacket. Unless you just want to pack it in and go home, nobody wants to be soaking wet, and the Nunavut Rain Jacket can pack easily in your pack. Below are a few of my favorite pieces to wear while fly fishing: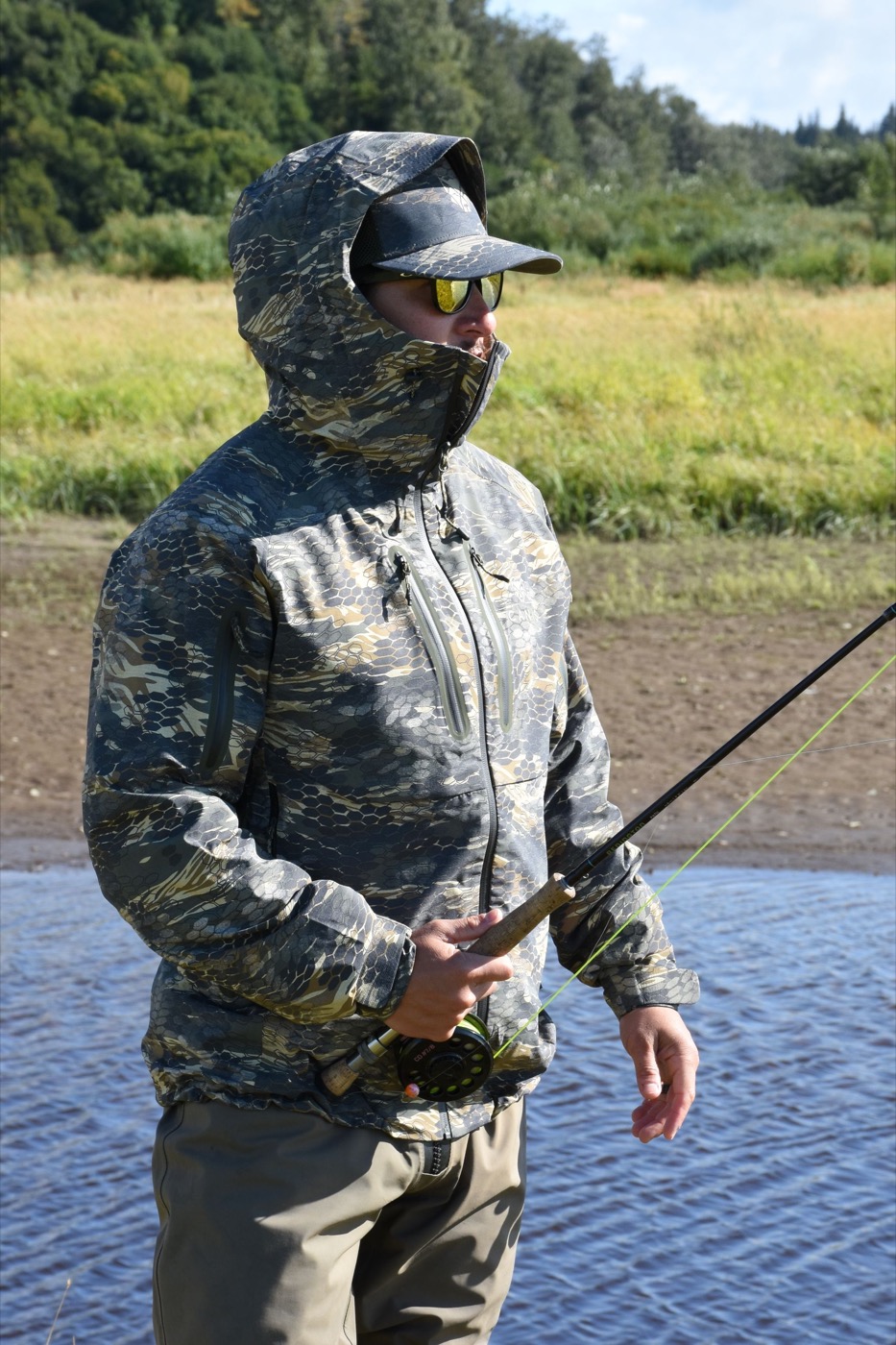 CANIS Pamir Insulation Jacket- Great, synthetic-down filled jacket.
CANIS Alpha Grizzly Insulation Jacket - Perfect for under your waders since there are no front pockets)
CANIS Alps Down ¾ Zip Pant- These are hands down the best insulation pants to wear under waders on a cold day. Since they are ¾ length, there is no fabric bunched up around your boots, and they zip and unzip fully without having to disrobe.
CANIS Nunavut Rain Jacket- 3-Layer stretch, 7 pockets, and will keep you dry as a bone.
CANIS Alpine Light Pants- Great to wear under waders on a warmer day.
CANIS Chamois Fleece Half-Zip- Great as additional insulation or as outer layer
CANIS Tahr Merino Long Sleeve Shirt- Naturally wicks the moisture away from your skin
CANIS Tahr Merino ¾ Zip Bottom- Fully zippered. Take them off without having to undress.
CANIS Hat- Any one will do. It will keep the sun off and keep you looking fresh on the water
Waders and Boots
Having leaky waders will ruin a day of fishing really quickly but there are a couple precautions you can take to make sure you stay comfortable out on the water. The first thing is to invest in a nice pair of waders and boots. The legs should be baggy enough that when you bend down the materials don't stretch and put pressure on the seams. You get what you pay for when it comes to waders, so investing in a nice pair can last you 10+ years. The Simms G3 Guide Waders are a super tough and comfortable pair of waders and will last a very long time when properly taken care of. Wading boots are all about comfort and Simms makes multiple good pairs as well. Just make sure they are rubber-soled and not felt soles. Wading boots used to be 100% made with felt soles, but in the past 10 or so years scientists have discovered that the felt on the boots will hold bacteria and when you fish multiple different rivers your boots can bring those foreign bacteria into new river systems and its not good. Most rivers have a strict no felt boots rule to prevent bacteria from other rivers coming in.
Here are links to waders and boots:
Simms Waders
Simms Wading Boots
Pack
Most of choosing a fishing pack is a personal preference because they're are so many different options. Here's a pro tip though…don't buy the biggest pack out there with the most pockets and little attachment points. If you do, you're gonna feel the need to fill that thing up to the max, and I promise you don't need that much gear unless you're a guide. Buy the small to normal size pack. The sling packs are awesome because they keep everything behind you and out of your way so the line does not get caught on anything. Chest packs keep everything in front of you giving you easy access to all your flies and gear quickly but line can get caught on it easily
Tools
Just a few odds and ends to put in your pack.
Net (rubber nets are the way to go)
Pliers
Nippers
Fly box
Split shot
Floatant
Polarized Sunglasses
In my opinion, having a solid pair of polarized sunglasses is essential. The polarization in the lenses drastically cuts out glare off the water making it much easier to see fish. And nobody likes squinting their eyes.
Costa Del Mar and Smith make great glasses here are links to their websites:
Costa
Smith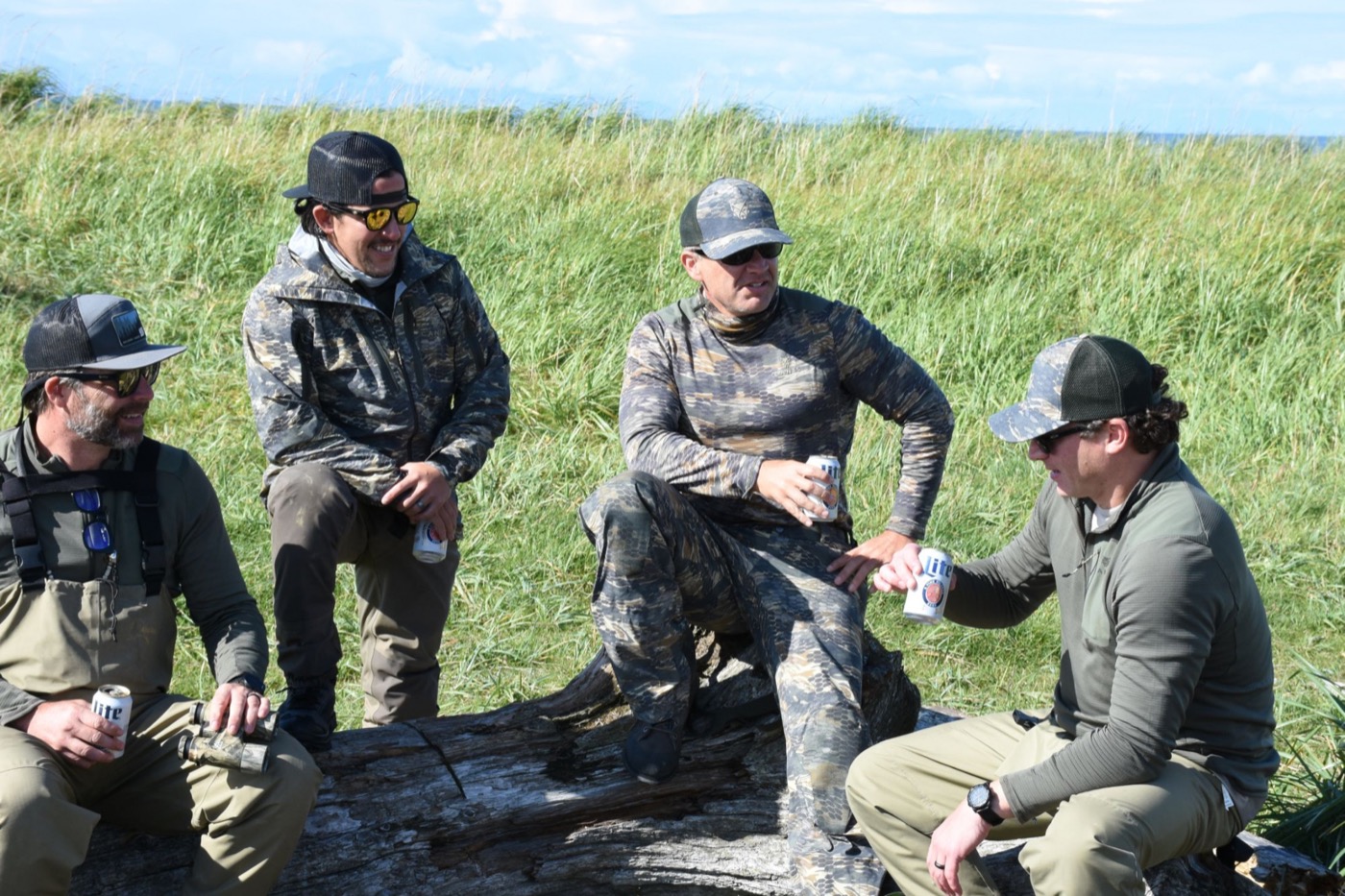 The Most Important Thing
Fishing is meant to be fun and is a classic pastime meant to be shared with friends and a cold beverage. Some of the best and funniest conversions I've ever had have been waist deep in a river with some of my closest friends. So grab your buddies, your gear, and a cold beer and get after it.
We'd love to see everybody's monster fish pictures in their CANIS gear so if you get lucky shoot them our way to info@canisathlete.com