O'Laska: The Ultimate Guys Weekend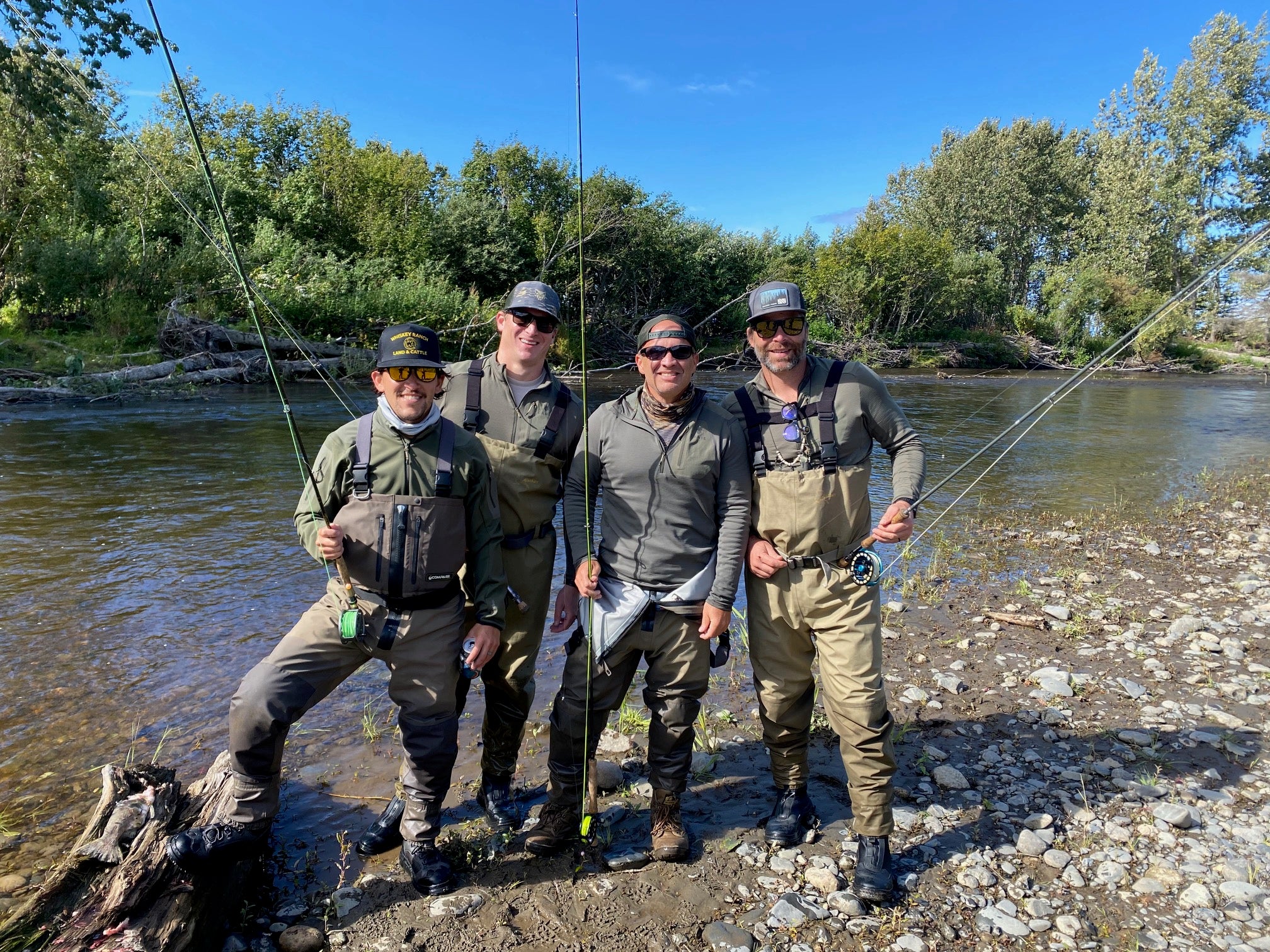 Over Labor Day weekend, three buddies and I embarked on a "spur of the moment" fishing trip to Anchor Point, Alaska.  Well, not necessarily true.  I had the trip planned since April to stay and fish with one of our CANIS Guide and Outfitters, Brian Saunders, owner of Anchor Point Fly Shop.  The other three jumped on board less than a week before I was set to take off after a compelling speech by yours truly about the majesty of Alaska.  That is not necessarily true either.  We had a few beers at happy hour, I told them flights were $400, I had a car, place to stay, a great guide, and they just needed to ask their wives' permission.  Luckily, they are all married to really cool ladies.  They got the hall pass.  We packed up some CANIS gear and set out for the trip of a lifetime.  
As stated, the original plan was for me to join our guide Brian Saunders for a relaxing two days of fishing on the Anchor River, followed by hiking and running in nearby Homer on Sunday, then a casual ride back to the airport on Monday.  On Thursday morning as we set out from Fayetteville, I was greeted with a lot of adventurous smiles as I jumped into my buddy's "mountain biking van" bound for the airport.  I had a feeling my original plan might get skewed a little.    
I, nor any of my travel companions, had ever been fishing in Alaska before, and we had no idea what to expect.  Luckily for us, our guide and host, Brian, was more than accommodating during the 60 emails I sent him leading up to our arrival. He is a Montana native who grew up a hunting guide, and moved to Alaska 20 years ago. Brian splits his time fishing and hunting Alaska for six months and then heads south to Mexico where he owns a fly shop and operates a charter business for the other half of the year...tough life I know.  
After the six-hour flight, we finally made it to Anchorage around 7 pm.  We loaded the gear in the truck, grabbed some essentials from town, and headed south on the four-hour drive to Anchor Point.  We didn't get to see much of the scenery on the way down, but could tell we were in for a treat on the return drive on Monday during the daylight.  Two drivers and numerous playlists later we arrived at our home for the next couple of days in Anchor Point.  Brian greeted us with open arms and could tell we had been rode hard and put away wet, so he pointed us to our cabin, and we hit the rack hard and fast.
Day 1- O'Laska  
Up and at 'em like it was Christmas morning.  First chance to check out the cabin, main house, and surrounding areas with sunlight and a clear head.  The cabin was perfect.  It wasn't the St. Regis, just the Alaskan essentials I have always dreamed about.  One room, beds, couch, table, kitchen, and a view of the Anchor River.  We grabbed a cup of Joe and headed over to the main house to meet with Brian.  He laid out the plan for the day, outfitted us in new boots and waders, and we loaded up our dry bags with a few protein bars and most importantly, an Alaskan sized load of cold Miller Lites.  It is Friday, this is my "Friday Beers" group, and we're in Alaska so it seemed proper to get it going early.  
Brian leads us through a little path, over a lot of downed trees to our first fishing hole of the day.  I am standing in about two feet of water, directly across from a bald eagle checking out the scene, and right around the bend from where the Anchor pours into the Cook Inlet.  It was picturesque to say the least.  Brian lays out the drift pattern for us and says he is going to let us flounder for about an hour and then correct as needed.  All but one of us (not me) were new to fly fishing.  Having grown up in Arkansas, fishing with spinning rods and baitcasters for crappie, bass, cats, and rainbows was the norm.  Admittedly, there was some floundering, some squirrel's nests, and maybe a one or two "how in the hell did you do that to the line?"  But through it all, Brian was as cool as ice with a big cigar in his mouth, attending to each of us and putting us at ease.
First fish of the day belonged to me.  Not a whale by any means, a little Dolly Varden, but it was enough to get the rest of the team and I excited to rip some lips.  From 100 yards away, my buddy Dave hooked up with a monster steelie.  The rest of us are so excited we dropped our rods, grabbed a cold one, and stood beside him to watch the fight.  Dave got him on the reel and Brian is guided him step by step.  "Tip up….Keep Pressure...Let him take it...Wear him down," it was like watching a carefully choreographed dance.  A dance that ended badly as the steelie won and broke free about 3 feet from Brian's outstretched hands.  No harm, no foul, and back to fishing.  
We moved upstream a bit and started fishing right on the edge of the current in very shallow water.  In no time at all, we stumbled onto a honey hole.  Pretty soon, every drift was producing a fish.  Nothing of great size, but we were shooting fish in a barrel from a numbers standpoint.  We had the spot, the set up, and we were slaying them!  Speaking of set up, I thought we might be doing the Alaskan version of Snipe Hunting when Brian told us we would be fishing with bare hooks.  I'm used to big spinner baits, Texas rigs, Road Runners, and hell, even a hook with a hot dog on it.  Apparently "Bead Fishing" is what we were doing.  We had a bare hook with a pink bead attached to the line about two inches up from the hook.  The fish would hit the bead, we set the hook, and the fight was on!
Day 2- We Have a Steelie
After a night of that consisted of us setting a car alarm off at midnight waking up all of Anchor Point, a story for a different time, we woke up ready to jerk some jaws .  Our team was starting to get this fly fishing deal figured out.  We had landed numerous fish the day before, and with a new found confidence, set out for a hike upstream to find our morning spot.  We added Brian's 11-year-old son Rio and their dog Dolly to the mix.  What a cool kid. Rio was polite, comfortable in front of adults, whipped up a lunch spread fit for a king, and could outhunt and fish anyone.  We found a little area with a nice rocky gravel bar and plenty of spots that had produced fish according to Brian. With bluebird skies, the sun shining bright, and Dave Matthews pumping out of the speaker, and the stage was set for greatness.  Within the first 30 minutes, we landed a couple of nice-sized fish, larger than what we had been catching the day before.  I let my drift sail right through an area where I had gotten hung up 10 minutes prior, then I felt the hit, I lifted the rod, yanked the line, and it was "Fish On".  
Brian immediately yelled, "it's a steelie."  I have no idea how he could tell as it was still underwater, maybe some guide voodoo.  Nonetheless, it was on, and he is putting up a good fight.  A few things immediately went through my mind.  I wanted to take my time, enjoy the moment, and try to remember everything about landing my first steelhead trout.  There was no way I wasn't landing this fish.  After about 10 minutes of guiding, fighting, moving, and smiling ear to ear, I finally broke his spirit and landed him.  Following a quick pic, Brian got the fish back into the water, and we went looking for more.  It appeared the seal had been broken, in more ways than one, and our crew caught several big fish throughout the remainder of the day.  We listened to good music, drank cold beers chilled by the river, and basked in the sunshine until it was time to head back to the house for a cookout featuring salmon caught in the same river.    
 Day 3- Homer Bound
In my original plans, this was the day I would be one with the outdoors.  I intended on hiking trails, getting in a run on the beach, and maybe whale or bear watching while soaking up all that Homer had to offer.  Looks good on paper, but the execution didn't go as planned.  We arrived at Homer a little before 9 AM on Sunday.  The guys checked into our hotel and walked down the street to a local diner to fuel up with a monster breakfast before heading out.  The hostess informed us that it was going to be an hour wait. We put our name on the list and decided to wait it out.  As we stood outside, we noticed a local bar that looked to be open.  Having some time, we walked over to investigate and sure enough Kharacters had operating hours of 930 am to 5 am.  Apparently, they close for a few hours to disinfect and reload.  It didn't take much arm twisting to saddle up to a few horseradish-heavy Bloody Mary's on the outside patio.  These were going down a little too smooth, and as the drinks started disappearing, so were my plans of hiking and whale watching.  
With a few drinks down and a big country breakfast in our bellies, we switched gears and decided to see if any other haunts on the Homer "Spit" were open.  Turns out, Homer likes to get the party started early, and barring being closed for the season, Homer's finest was open and ready to roll.  Without going into too much detail, I will say we had a fantastic "off day" in Homer.  Far and away our two favorite spots were The Salty Dog for cocktails and Captain Pattie's for great seafood.  The Salty Dog, outside of its cavern-like interior plastered with one- dollar bills on the walls, has a touch jukebox that you can control from an app on your phone.  Needless to say, I don't think the Dog has heard a playlist like we put together on Sunday. After ordering a table full of food at Pattie's, we couldn't resist the magnetic pull of The Salty Dog and hit it up again after dinner for a night cap.  
Day 4- Airport...With Some Detours
Bags packed and the car loaded at 10, our crew set out for the airport.  Since we drove in at night, we didn't get to experience the scenic magic between Anchor Point/Homer and Anchorage.  With our flight not leaving until 10PM, we decided to take our time and make a day of it.  We thought we could stop along the way at some overlooks, maybe hit a trail and hike, just take our time.  Our first stop found us at a roadside pizza and brewery about an hour or so outside of Homer.  As the waiter asked "Can I get you something to drink" a hush fell over the table.  Not all heroes wear capes, and one of our guys volunteered to be the driver so the other three of us could enjoy a few pints with our pies.  After lunch, we loaded up and headed north.  Looking at the GPS, we noticed about an hour down the road, there was another roadside brewery called Cooper's Landing. Like it was on auto-pilot, our car veered right off the main highway to check it out.  We lucked out and got an outdoor table with a fireplace and enjoyed a few of Cooper's ales while we checked out the mountains around us.  Jumping back in the car, we were confident that was our last stop before hitting the airport.   Just when you think your free and clear, Alaska reels you back in.  The ole GPS locates another microbrew just a few miles outside of Anchorage.  With two under our belts, and our buddy on a steady diet of Red Bulls, we went for the trifecta.  Girdwood Brewery was our final stop.  As with the others, there was plenty of outdoor seating, food trucks, and unbelievable views of the surrounding mountains.  With white flags raised, we loaded up a final time for our final approach to the airport with a few souvenir tees and hats we picked up along the way.
Pouring myself into the seat on the plane, the trip had finally taken its toll on me.  My mouth and face hurt from laughing so much.  My body was a little sore from hiking, fishing, and running around Homer.  I had hundreds of new stories running through my head, but at that moment, it was time for some well-deserved z's.  My eyes shut simultaneously as I clicked the seat belt and they didn't open until I heard the captain say we were on our final approach and to put the tray tables up.  The trip was over.  As we got off the plane, we started walking down the terminal and I could see each one of the guys almost laughing to themselves about the trip.  We knew we were going to have fun, but never expected this out of a fishing trip to Alaska.  The fishing and scenery were great, but the memories and laughs shared were epic and unforgettable.