Kamchatka, Russia: Snow Sheep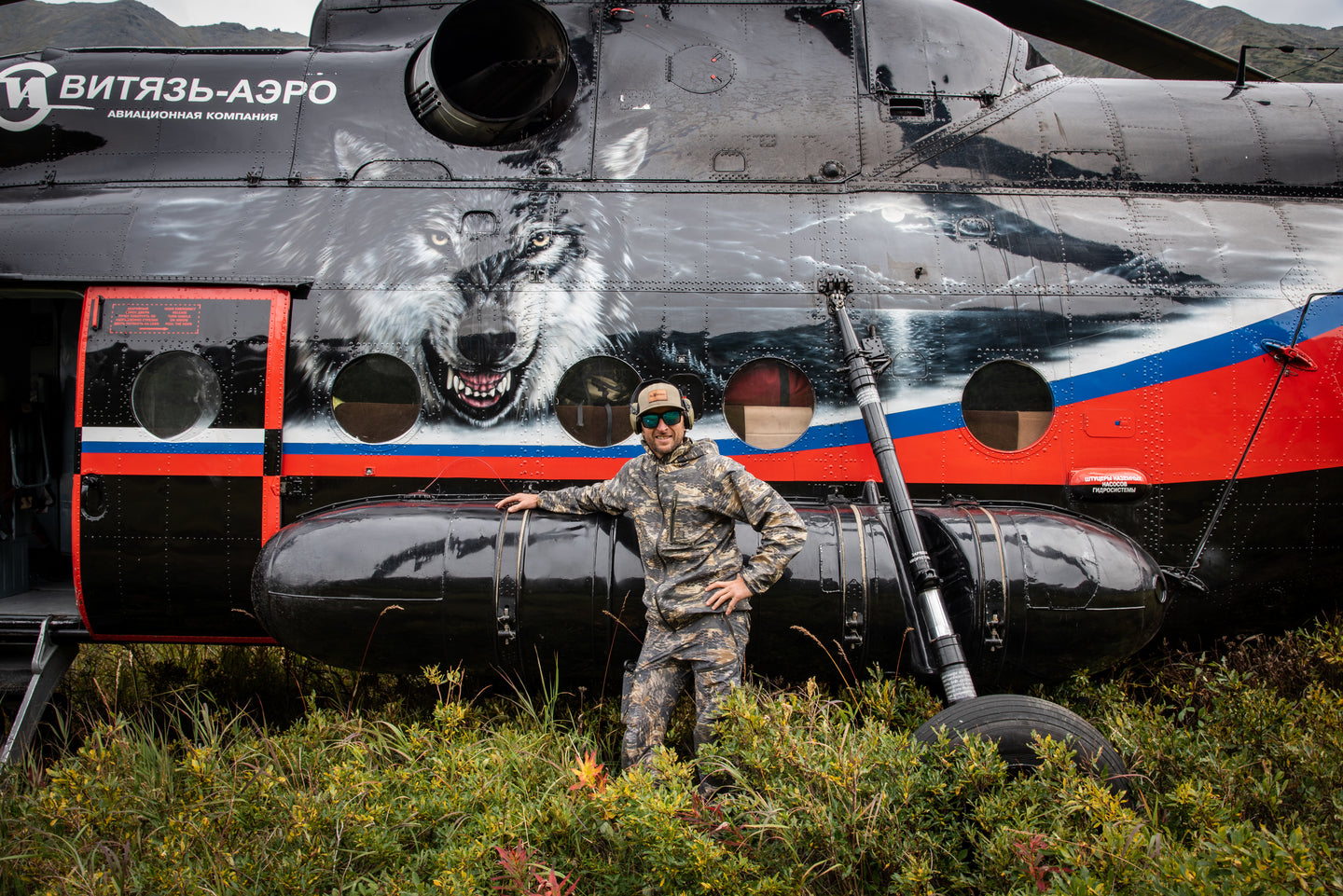 This adventure started like so many others. Greg Brownlee of Neal and Brownlee Worldwide called and said, "Let's go to Kamchatka Russia and hunt snow sheep." It sounded like an epic adventure that I couldn't pass up. I had always wanted to go to Russia and the opportunity to hunt sheep in its rugged backcountry gave me all the feelings of a kid on Christmas morning. I told Greg to sign me up!
We took the four-hour flight from Anchorage, Alaska to Petropavlovsk Kamchatsky Airport on the southern end of the Kamchatka Peninsula. After clearing customs, we got a green light on the weather, and we quickly transferred to the airfield to link up with the Soviet Era MI-8 Helicopter that would deploy us into the middle of the Sredinny Mountain Range.
The chopper inserted us in a valley that sat passively in the shadows between the towering peaks. As we looked up at those mountains, we knew we were in for a truly epic adventure. I was immediately thankful I spent all those hours training for this hunt. There were fresh brown bear tracks covering the ground, and it became very apparent that we would be sharing our new surroundings with the famous Kamchatka bruins.
Breakfast on day 1 was truly unforgettable. We piled into the dining tent to find a truly Russian breakfast fit for kings. The table was covered in large portions of king crab, salmon roe, sausages, eggs, fresh honeycomb, and bread. We would need every one of those calories at the end of the first day.
We hiked south from camp along the glacier fed creek for seven miles before we started our climb to the summit. Our Russian guides didn't speak English, and we didn't speak Russian which proved problematic on the first day. We realized we had climbed away from the last water source with empty water bottles. The seven-mile trek down the creek caused us to deplete our water, and we made a bad assumption that the climb ahead of us contained glacier water along the route. It was a valuable lesson learned and from that moment forward the rule was to never assume anything, it might kill you.
As we reached the summit, we sipped on the Coca Cola Vladimir had in his pack and chewed electrolyte gummies. Canvassing the nearby terrain, we were able to find a patch of snow that we quickly shoved into our Nalgene bottles. This would have to hydrate us for the next several hours until we could find a water source. Kurt, the cameraman, was already starting to cramp but the electrolytes seemed to help.
The first day brought a great physical effort and a sighting of eleven ewes at sunset. We gained a tremendous amount of respect for those mountains and knew they would do their best to break us in the days ahead. Staggering into base camp around 10 PM, bodies craving calories and sleep, I dreamt of locating a big old ram in this mysterious land of volcanoes.
The next few days brought vast amounts of vertical feet, mental and physical exhaustion, fog, and glimpses of big rams. It was a mountain hunter's dream. We had several shooter rams in the glass, but we either couldn't reach them, or the fog would blanket the mountain range before we could close the distance.
The morning of our ninth day started with a quick breakfast and a 7 AM departure. The range was covered in fog, but we were confident it would burn off before we reached the top. Shortly after ascending the summit, we located and glassed several different rams, but no shooters. We knew there was a band of six large rams we put to bed two days prior. They were several peaks away to our North, and after some discussion, we made a plan to pursue them.
At midday we were side hilling around the summit and Dema, the head guide, suddenly froze in his tracks. There was a big ram bedded alone straight below us at 157 meters. There was zero doubt this sheep was an old monarch, and without hesitation the team began to set up for a shot.
The angle was over forty percent and the corrected shooting elevation was only 90 meters due to the steep terrain. It was so steep that my bipod wouldn't work properly as the barrel of my rifle was hitting the ground at that angle. I was able to use the right bipod leg to give me one point of contact against the rock on the uphill slope.
The ram was beaded so I planned to anchor him with a spine shot. However, Dema wanted the ram to stand up so that I could take a quartering double lung shot. It was a tougher shot at this angle, but he feared we wouldn't be able to get to the ram without repelling gear which we didn't have if I anchored him where he lay. He wanted the ram to run downhill off the crag making the recovery easier.
Dema whistled and the ram jumped to his feet. The shot hammered him, and he disappeared down into another crag. My body riddled with adrenaline as I came to the realization that I had just taken my Kamchatka BigHorn after nine days of the hardest mountain hunt of my life. My legs struggled to move over the next thirty minutes. The already treacherous side hilling seemed twice as difficult with adrenaline dumping out of my body.
The terrain was too steep to go directly at the fallen ram, so we worked along the ridgeline then down and across a scree field for two hours before ascending back up towards him. It took us another four hours of climbing and searching before we finally located the sheep.
The moment I laid my hands on my Snow Sheep is a moment that will live in my mind forever. The entire experience, planning, preparation and training came together for a successful outcome. I reflected on all the things that came together to make this possible as I slid my hands over those big heavy bases. I had a profound sense of respect for that ram and the terrain in which he spent his entire life. Kamchatka Snow Sheep live in some of the most rugged terrain I've ever seen and spend most of their lives on the top of those high peaks.
I will forever be thankful to the Russian guides, Greg Brownlee and the cameramen that captured this hunt. Although we didn't speak the same language, we were all hunters. We found a way to communicate and we found a way to get it done as mankind always seems to do with hard work and patience. We learned from them, and I think they learned some things from us. We created lifelong memories together that will forever be ingrained in all our minds.
We descended those Kamchatka mountains for the final time on the ninth day of our trip through fog and injury and we arrived back to camp at 2 AM after a twenty-hour day.
As the sound of thundering rotor blades grew closer, we began to dream of chasing silver salmon in rivers near Petropavlovsk.
After lifting off, I stared down at those mountains knowing they will forever be part of all of us. Until next time Kamchatka…
nah zda-ROVH-yeah!!