Gear Drop: Whitetail Hunting Rig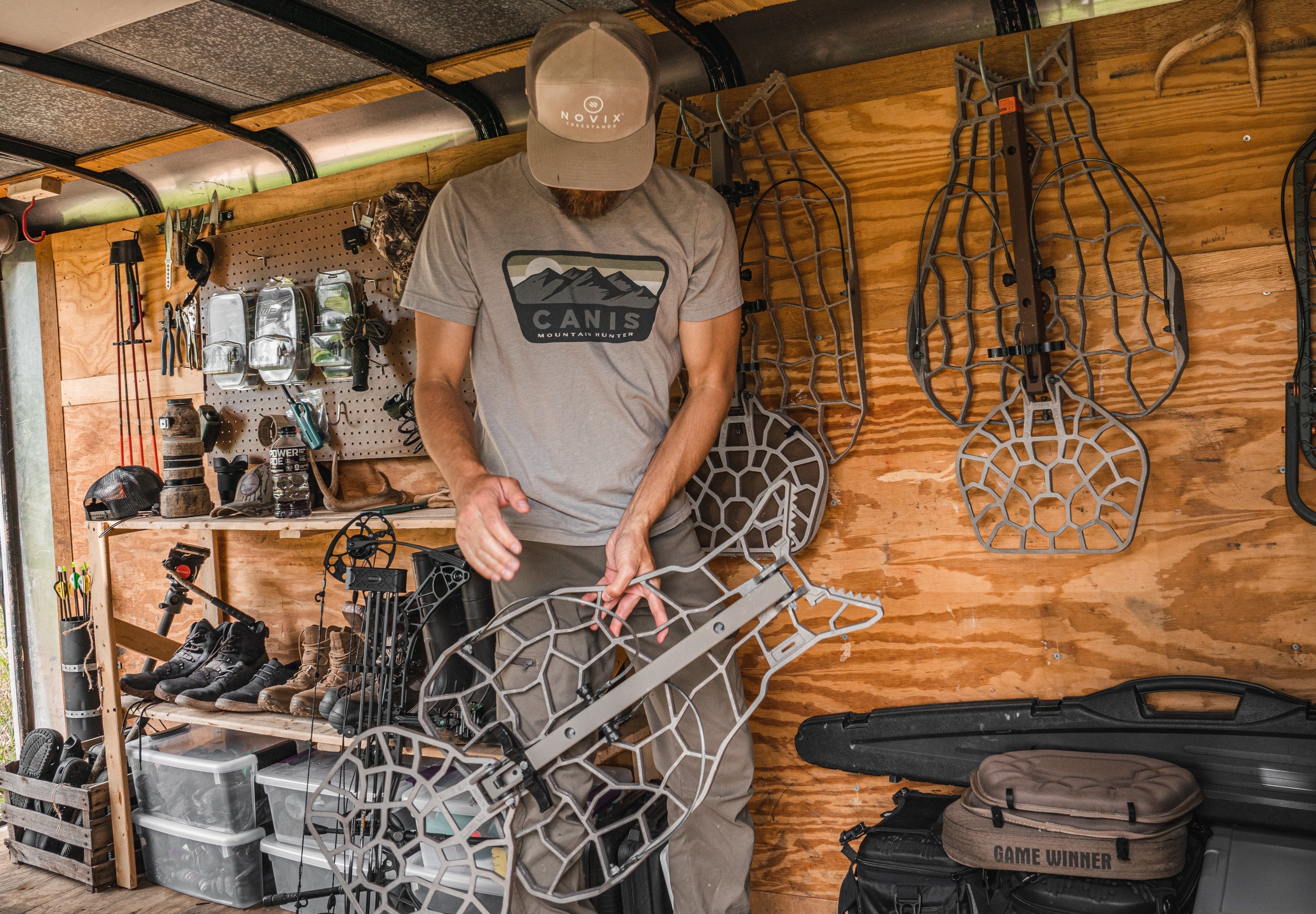 We wanted to do something a little different for this Gear Drop, so enter CANIS Content Contributor and Owner of Grizz Media, Jesse Anderson. Jesse does what most people aspire to do which is make a living doing something you love. In this case, it is hunting, being outdoors, and capturing it all with a camera. If that doesn't make you want to switch places, check out his "office" during hunting season...The Hunting Rig. This Gear Drop is a tour around The Rig and Jesse's list of essentials for the tough task of chasing whitetail for a living.
- The CANIS Team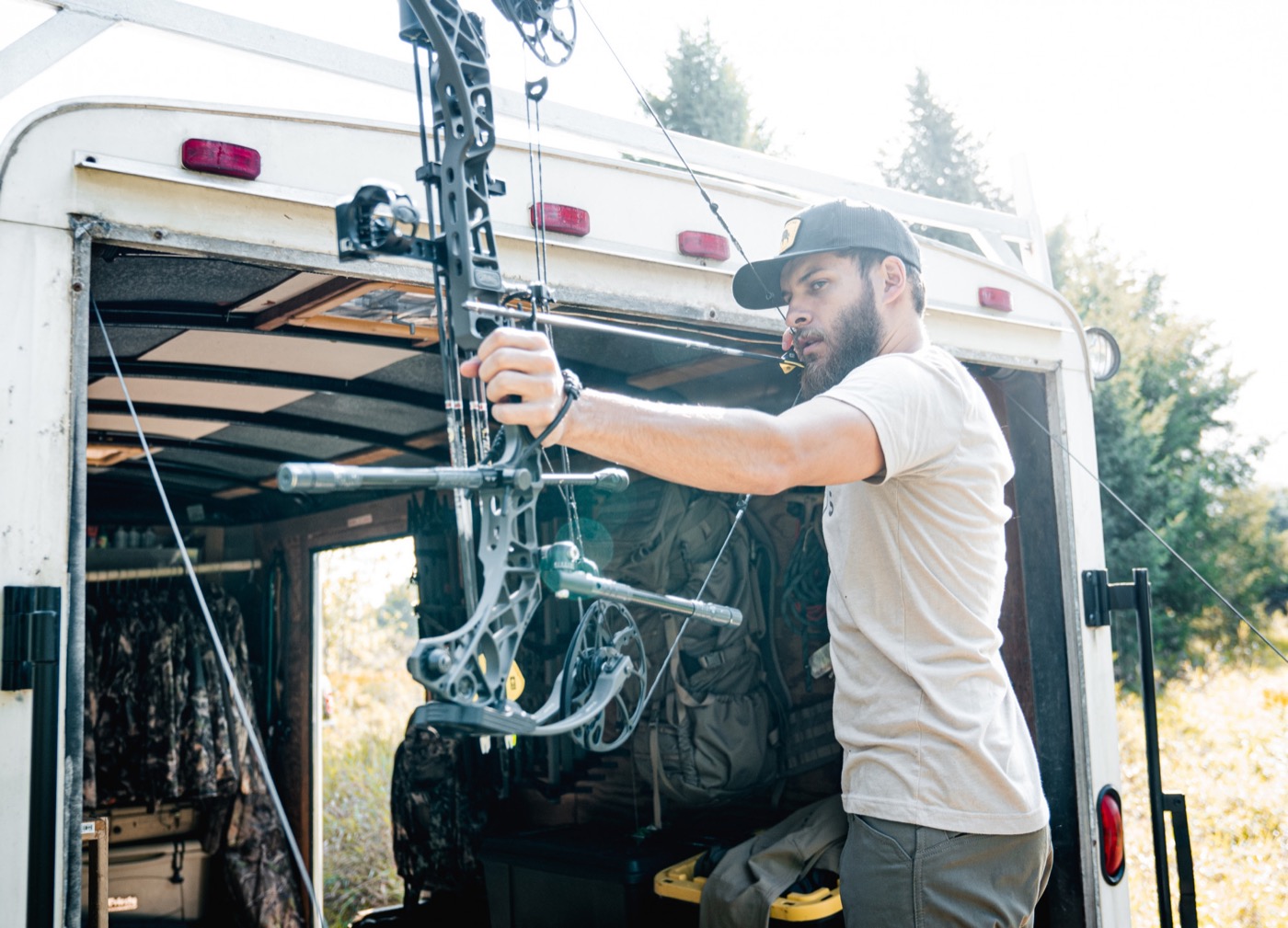 Every year whitetail season rolls around, I'm always running around, digging into totes and bags in search of all the gear I need. Then it's a continuous cycle of packing gear into the truck and unpacking to do everyday tasks. During this process I always tend to misplace something or leave it behind in the woods. Seems I always have gear scattered from the basement to the barn. Getting this enclosed trailer just puts everything I need in one portable place. Whatever hunt I go on or work shoot I'm planning, I have everything I need for it in one place year round. This gear will never leave my trailer, except during the hunt.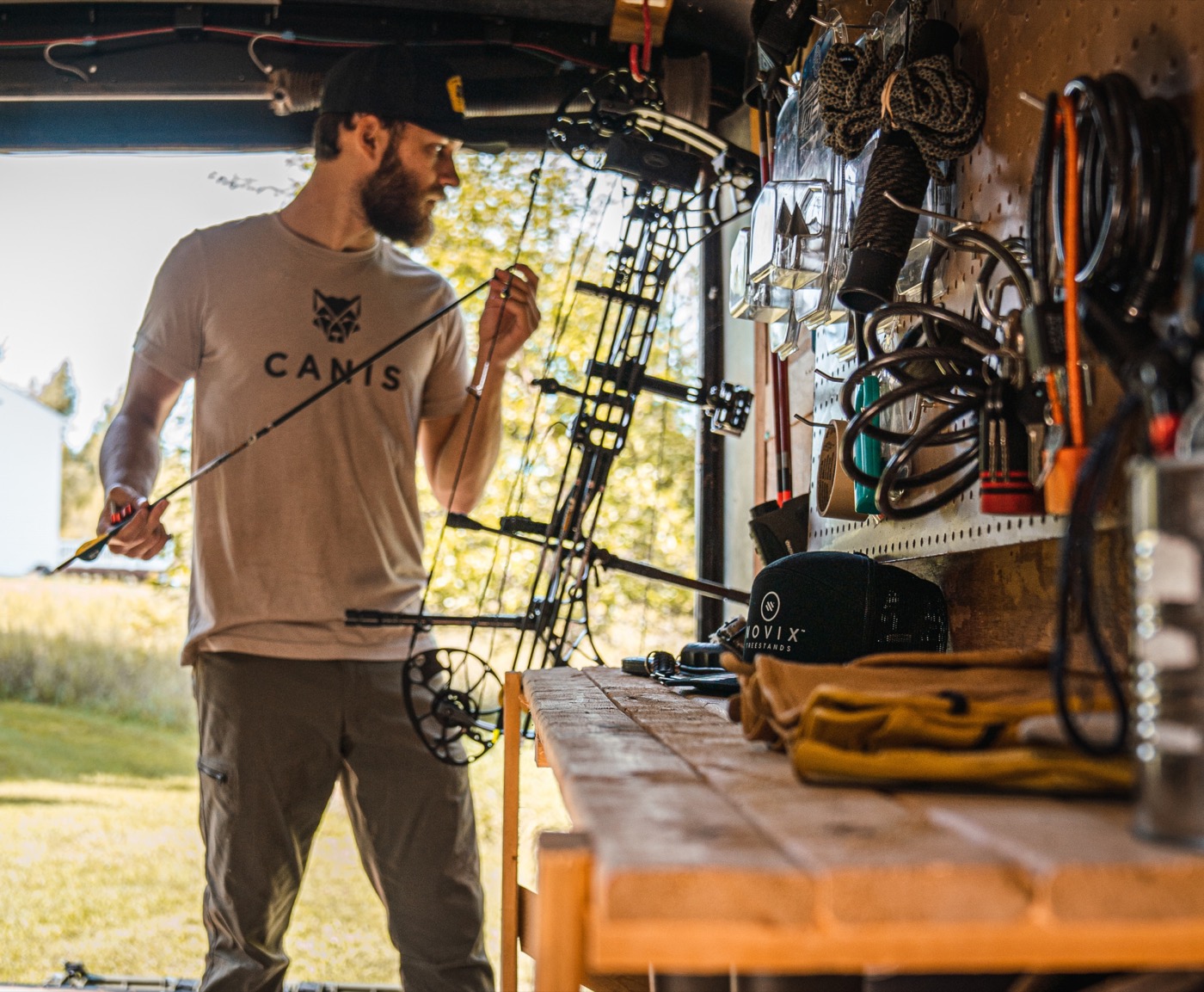 My intentions for this rig was primarily for my business. I own an outdoor media agency by the name of Grizz Media. We do content creation, marketing and brand development for brands of the industry such as hunting, fishing, winter sports, offroading, tactical training and more. With all these different industries, the gear and supplies needed can be quite overwhelming. Preparing for projects and travel is always a mess and makes our job more difficult. So to have a rig where we can take it with us and to have all the gear we need is ideal. Makes me as a creator and hunter more efficient and organized.
The front wall of the trailer I use as a large clothes hanger to always have clients gear and apparel needed for each task. I have everything from CANIS rain gear, waders, and winter camo on this hanger. Each side of the walls I use to hang my Novix treestands and climbing sticks across with straps to keep them from smacking the sides. Heavy duty Plano storage bins are laid across the floor walls storing hunting pants, CANIS accessories, and gear I don't need to get to that often. The back side wall I mounted a shelf to store bins with gloves, hats, and smaller gear. I also store my boots here such as hiking, mud, and hunting boots. It doubles as a workbench with a peg board across the wall to keep smaller items close at hand. I keep my Grizzly coolers and Mathews bows in my cases against the front wall under the clothes rack since they will move the least there. The middle of the rig is to store an ATV if needed.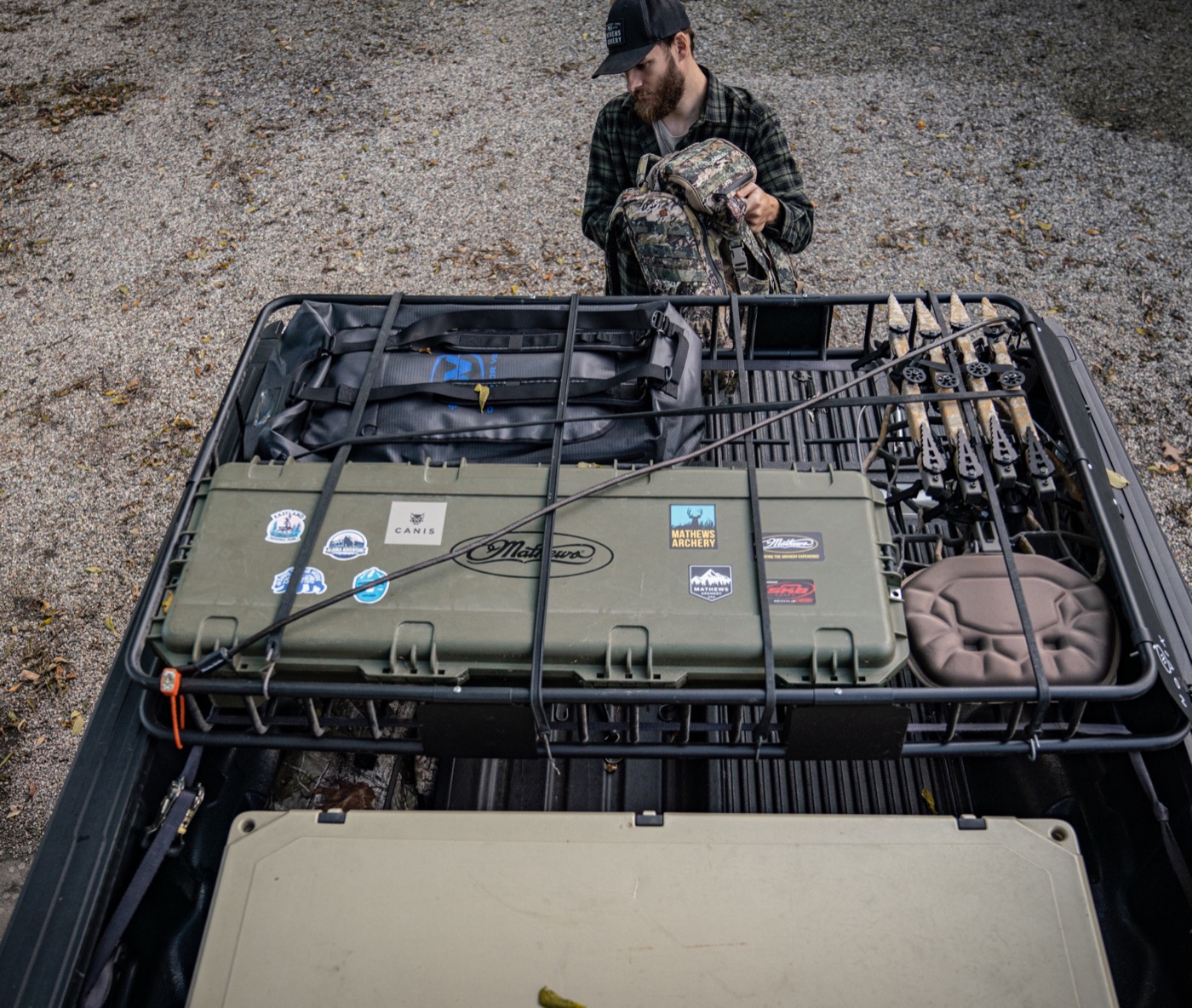 My trailer will continue to evolve to my needs for my business and hunting. Since I hunt whitetail deer almost daily, it's designed mostly for daily hunts and short trips. I plan to use it as a base camp for backcountry western hunting for elk and mule deer. It's definitely not a cheap purchase and also not a necessity, but it's probably the best investment I have made for my business. I'm excited to continue to build off it and be able to do more projects.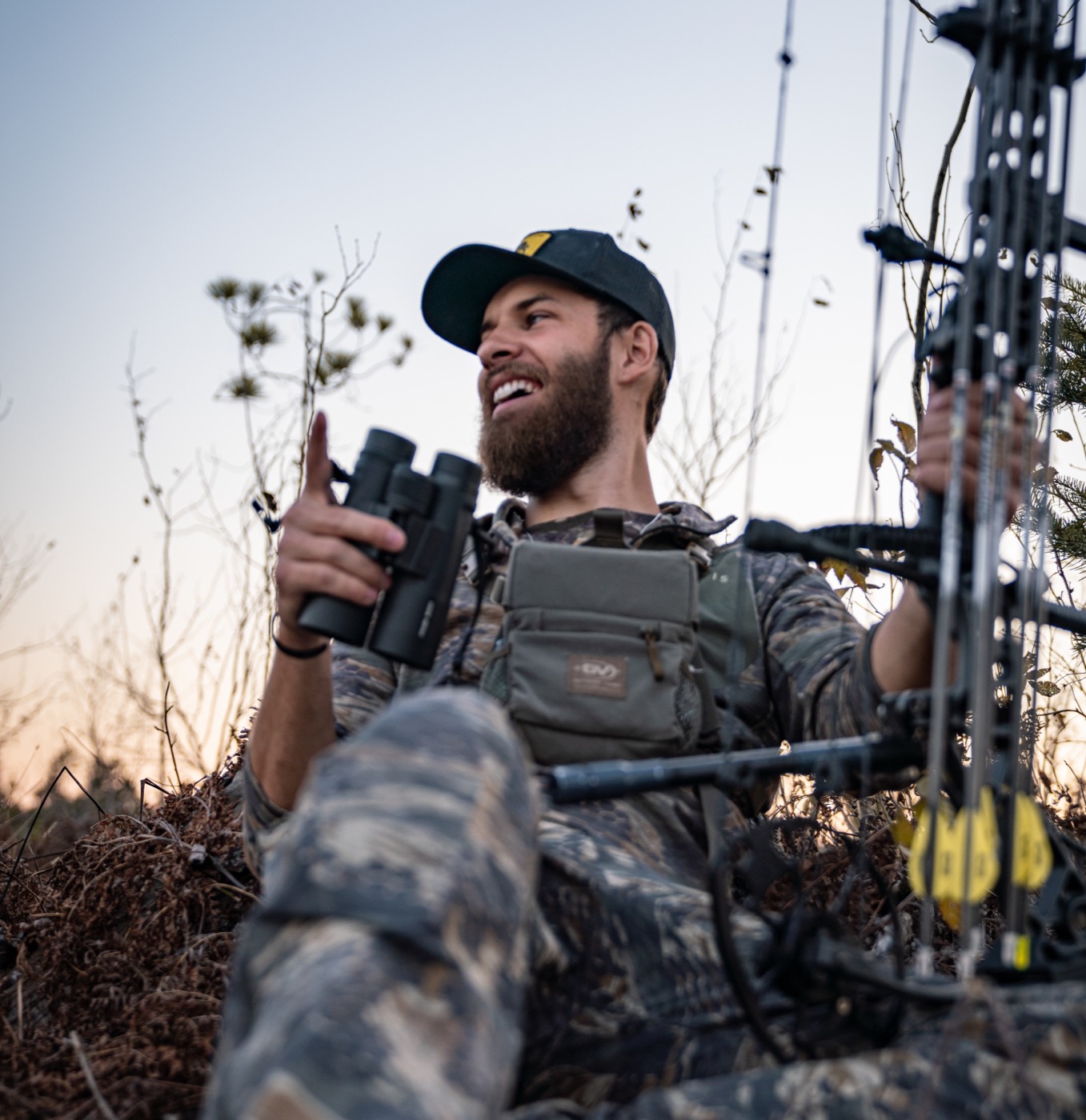 Gear List
Bow
Mathews VRX
Sight
IQ PRO XT 5-Pin Bowsight
Arrows
Easton 5MM FULL METAL JACKET & MATCH GRADE
Clothing Early Season
Chamois Fleece Hooded Half-Zip
Chamois Fleece Half-Zip
Tahr Merino Short Sleeve
Alpine Pant
Alpine Light Pant
Alpha Belt
Kodiak Boot Gaiter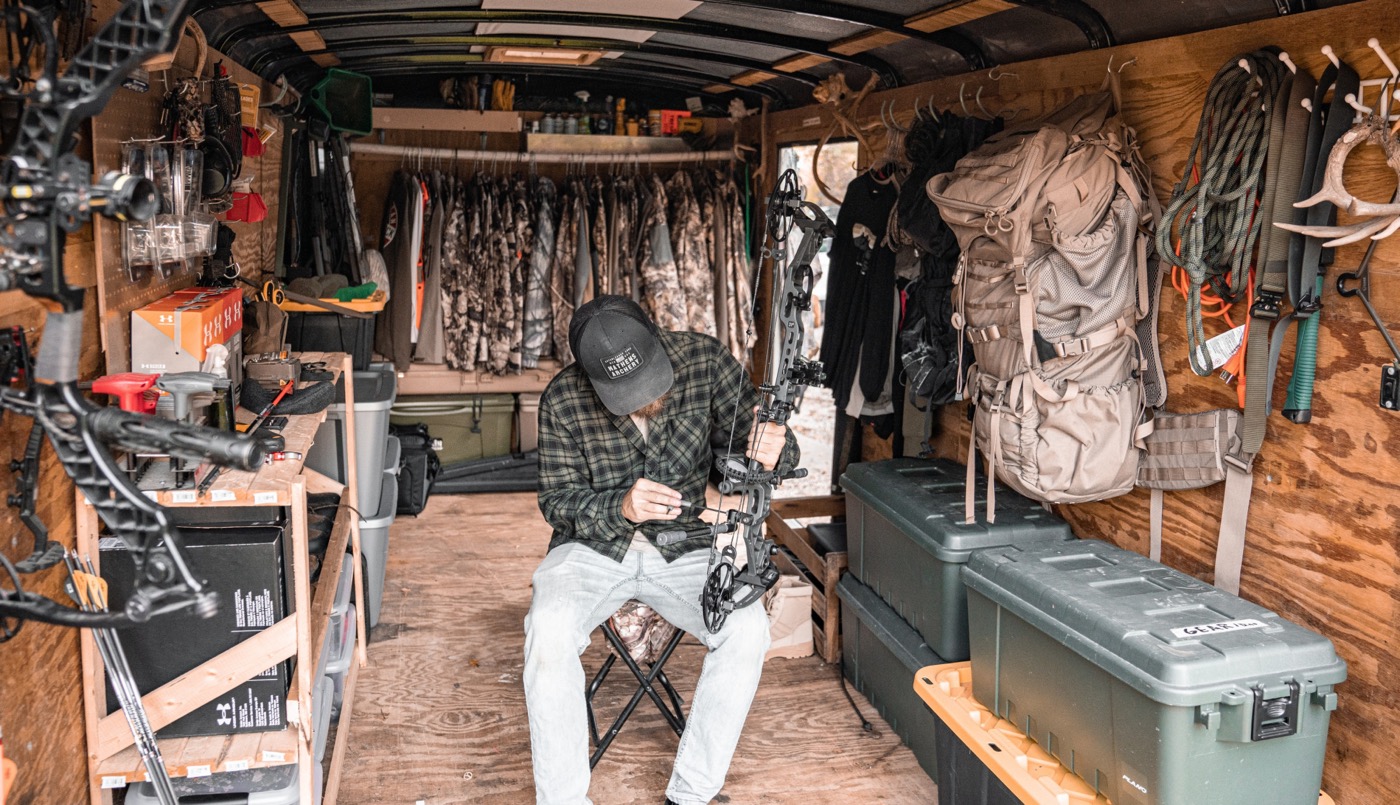 Pack
Eberlestock
Treestands
Novix Echo & Helo stands
Coolers
Grizzly 20 & 60 qt for game meat
Grizzly165 qt for gear and/or food
Boots
UnderAmour Unisex UA HOVR™ Dawn WP Boots
Men's UA Charged Raider Waterproof
Lacrosse Alphaburly Pro 18" Brown 1600G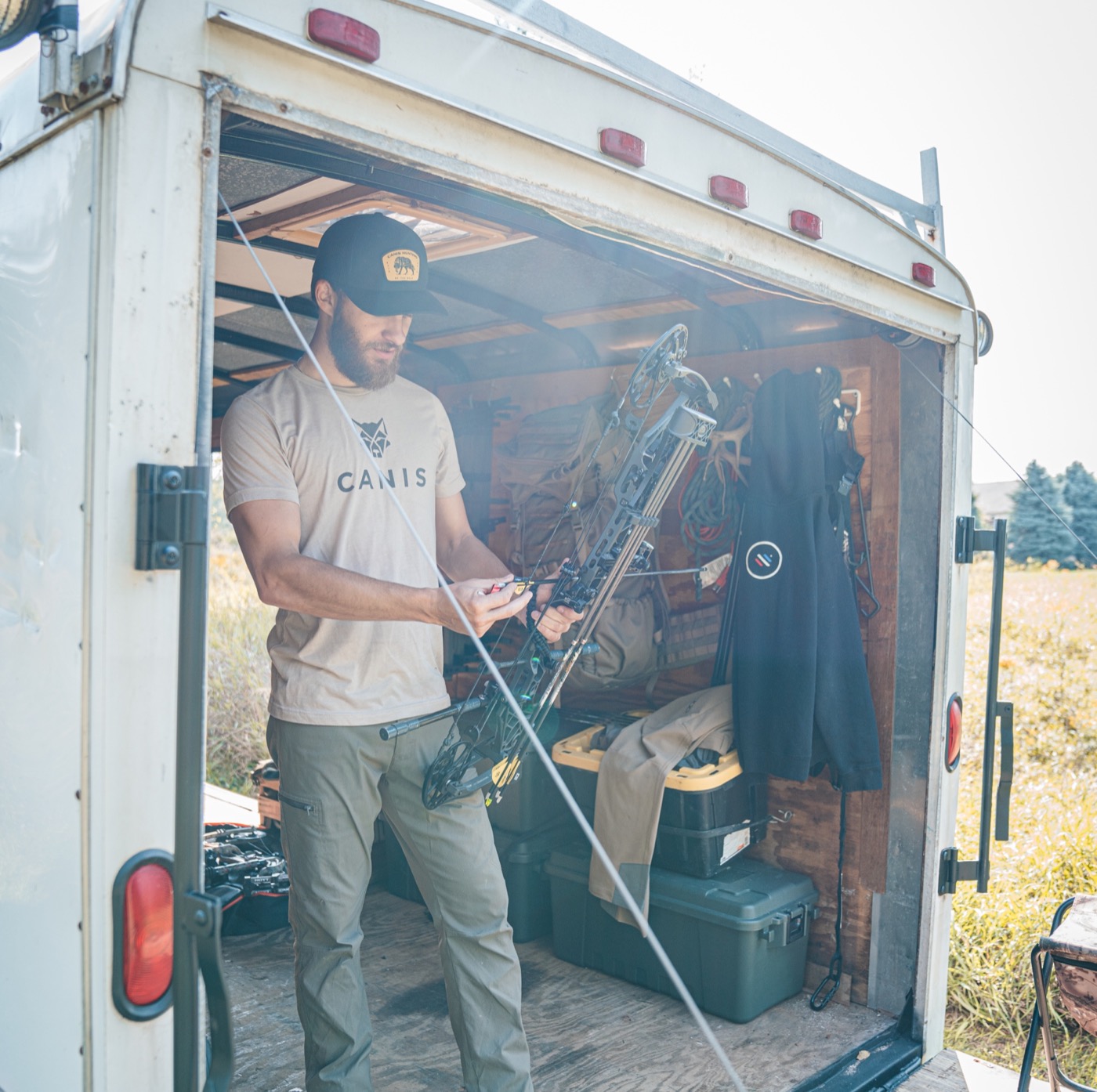 Extra Gear
Several pairs of different types of socks
Several beanies and hats for different conditions
Several pairs of gloves
Lifestraw water bottle
Orvis fly rod for backcountry
Gerber knives for fish and game cleaning
Saws, mini shovel and pole saw
Allen wrench kit for bow gear
Waders, hip boots, and bibs for cleaning
Outdoor Vision bino harness and waterproof bags