Barbary Sheep: In Far West Texas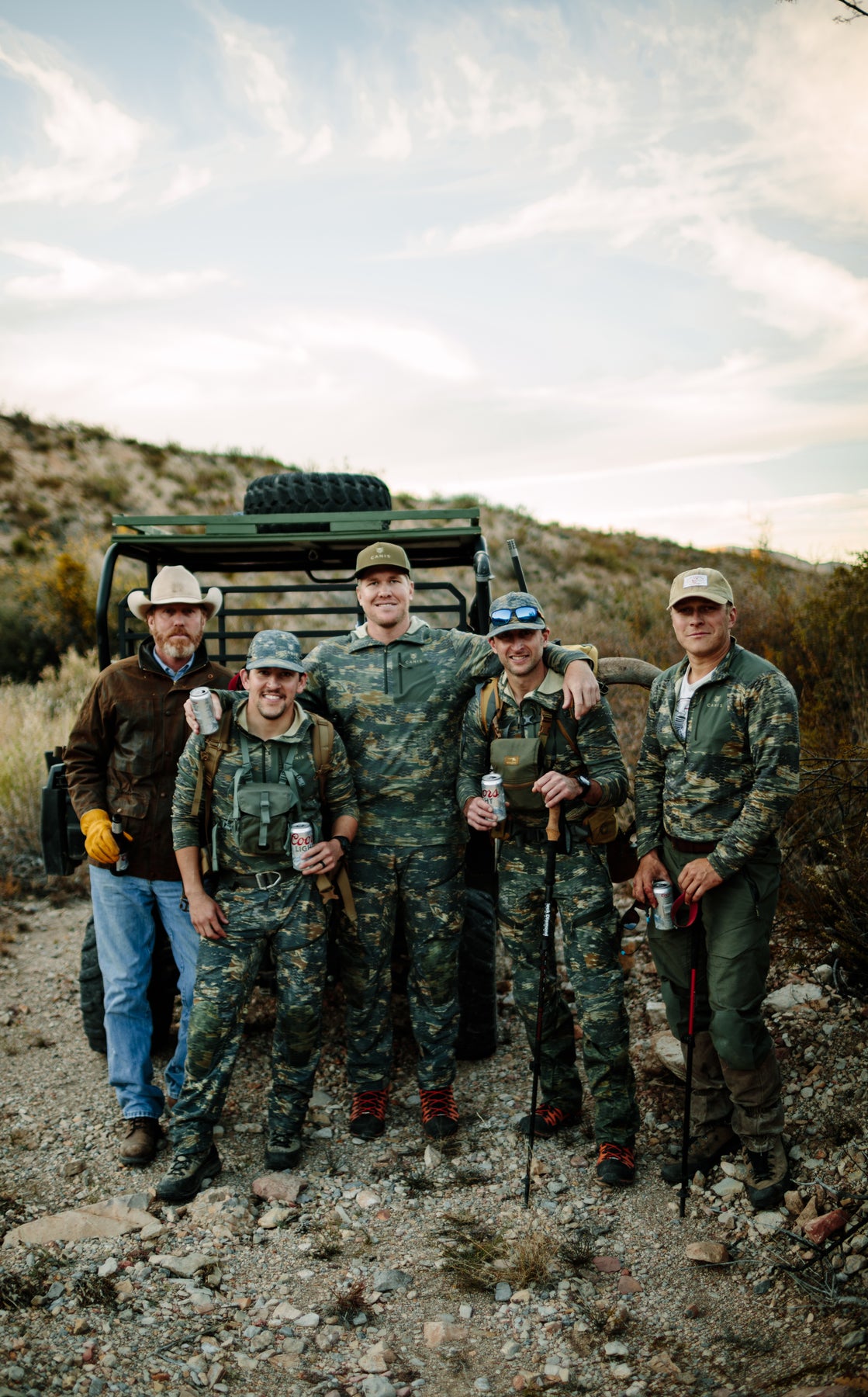 Texas has always been dear to my heart. My dad grew up just north of Amarillo in the small farming town of Sunray, and I've got family from Dallas to San Antonio. I spent many cold December weekends as a teenager through my college years chasing pheasants in the Panhandle. Looking back, those trips became a part of us and who we would become. There's just something special about walking in that Texas dirt that lives in you forever.
I have heard stories of guys hunting Barbary Sheep (Aoudad) in the mountains of Far West Texas. I phoned Greg Brownlee and he said, "I've got the guy, I'm sending you down to hunt with Logan in Chinatis". That's all I needed to hear. I called Logan and he said, "I hope you built your gear tough because the cactus and thorns down here will eat it up".
We met up with Logan Lewis in Marfa and headed south towards the Mexican border. Logan is a 28-year-old sheep guide, but you would think he's been guiding for thirty years. He put Lucas Nelson on the radio, and I immediately knew we were going to get along just fine.
The Barbary Sheep's native range are the Atlas Mountains in North Africa in the countries of Morocco and Algeria. It's rumored that cattleman brought them into Texas in the 1940's and they've been thriving and populating over the last seventy-five years. They're known for their heavy horns and large chaps blanketing their chest and legs.
We settled into the ranch house located near one of the few water sources in the ranch. It was picturesque just as I expected it. It was a quaint little ranch house in the middle of the mountains with a Texas sized fire pit and a dining table that could tell stories of Pancho Villa's raiders and the U.S. Cavalrymen that chased them. Trees only grow in the Chinati's along a water source and the Cottonwood's provided a glowing yellow canopy above us.
Logan had located a couple old rams two days before we arrived. He felt strongly that they were shooters, but he needed to get a closer look. We planned our approach over breakfast and set off for the highest peak above the rams.
The Chinati Mountains were unlike any terrain I've ever hunted. The peaks and canyons are vast, and they're covered with more varieties of cactus than I knew existed. Sotol and yucca plants dot the landscape as far as the eye can see. At first glance you wouldn't think animals could survive there. Its biodiversity of wild game is one of the largest in the country. Mule deer, elk, mountain lion, whitetail, javelina, bobcat, bighorn sheep and aoudad all live in these mountains.
We couldn't help but notice numerous caves along the mountain faces that have been used by the Native Americans for thousands of years. Recently, Logan discovered a painting in a cave that depicted a Shaman and his hunting scene which was officially named by the "Logan's Ladder" by the archeological team on site.
Cresting the summit, we spent the morning glassing the rams last known location but were unsuccessful. Just before noon, Logan located two rams across the range. We knew these had to be the same old rams although they had moved down and around the backside of the mountain. Logan determined that we wouldn't be able to reach the rams until late in the day from this distance, so we loaded up in the trucks and moved back down. We were able to map a route that would put the wind in our favor and put us above them.
Working up and down the rugged terrain, we reached the base of our target mountain. Only one more climb and a lot of cacti stood between us and the sheep. We ascended the back side of the mountain, and worked slowly up to the summit. Logan slowly made his way to the edge, but he couldn't see anything. I crept forward to help, settling myself over the rim. I settled my binoculars to find a ram bedded directly in front of me. He was laying in the shade of a Yucca plant.
After a mild panic, I realized I was too high for him to see me although it looked like he was locked on to me in the glass. I slowly backed off the face to try and locate the other ram. After several minutes, one of the guys located the other ram down below the bedded sheep. We wanted to get a good look at both of them.
Logan prides himself in only harvesting old rams that are past their prime. The second ram looked like he was engaged in a mock battle with an imaginary sheep. He would rise on his back legs and charge the air in front of him. It was a comical site. In his old age and fresh off the rut, he was probably tired of all the young rams challenging him.
We were able to watch both sheep for over an hour and we determined that the bedded ram was the older heavier sheep. We got set up and waited until he stood up to feed. We had the element of surprise in our favor. The ram had no idea we were in his presence. He finally stood up and presented a slightly quartering shot at two hundred meters. I aimed for the opposite shoulder and squeezed off the shot. The Barnes TTX hammered him, and he only ran a few meters before piling up.
I had just taken my first Aoudad in Texas with some of the best guys in the world. We estimated my ram at twelve and a half years old and these sheep usually live to be twelve to thirteen years old. He was the perfect sheep to take, and I was ecstatic as I slid my hands over his heavy bases. He was worn almost completely smooth from a lifetime of fighting.
We were able to reach Jason back at the ranch house over the Satellite phone, and he arrived on a UTV with a Yeti full of ice-cold beer to pick us up at the base of the mountain. This saved us two hours of mortal combat with headlamps, cactus, and rocky Chinati terrain.
In true Texas fashion, we grilled tomahawk ribeye's over a hot campfire while the West Texas stars lit up the night sky above us. The Chinati's and the memories made will always be a part of us. I fell in love with those mountains, and I will be going back. My hunt was over, but my little brother was in camp, and it was time to focus all our efforts on his first sheep! God bless Texas!