Freaky Friday #18 - The Sheep and the Wolf
When it comes to being a badass in the mountains, training back home is what separates the wolves from the sheep. Strength and cardiovascular endurance need to be the foundation of your training program, as they go hand in hand with mountain hunting. Trekking 10 to 15 miles a day through high alpine country when your packs heavy, body beat, and mind exhausted is all in a day's work up there. The last thing anyone wants is their physical abilities to hinder their performance and success. Being able to dig deeper, push further, and keep your head held high is essential. We like to incorporate strength movements with increasing speed interval training to build up the bases for endurance in the mountains, and then finish things off with just a little bit more suck. Getting yourself to the optimal position to close on your target is only half the battle, if successful, you've gotta pack out the animal off the mountain. Today's workout is a solid butt-kicker to build those bases and teach yourself to keep pushing.
The Equipment
We try to make all of our workouts doable from the gym or home. This workout will incorporate 30-60lb dumbbells, (optional) weighted vest, AssaultRunner, and StairMaster. The StairMaster finisher could be easily substituted with bur-pees as they trigger the same muscle group and action. For the sprints, flat ground outside will do just the trick, and if you don't have dumbbells you can always load up your pack or just find something decently heavy.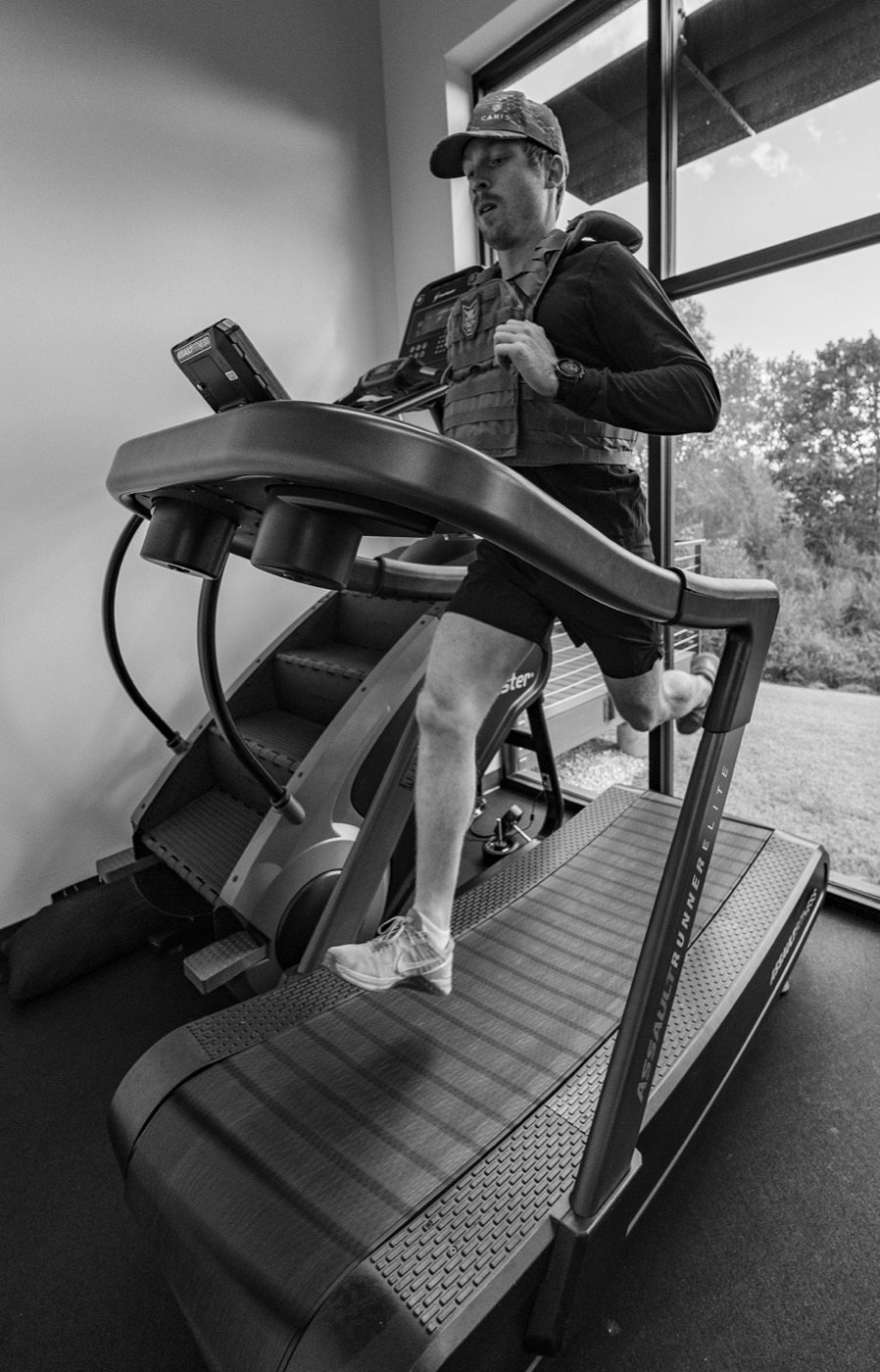 The Warm-Up
We are going to keep the workout pretty basic as the first round of the exercise really serves as a good warm up for the remaining 3 rounds. The first thing we are going to do is an easy 2 minute jog, either on the assault runner or outside. Next, we will go right into 1 minute of stationary air squats, really focusing on getting a deep stretch in the hamstrings. After the air squats we are going to do some stationary lunges, getting about 20 per leg, focusing on loosening up our hips. Again, take these warm-up movements slow and easy, really focusing on loosening up and getting a good stretch. Lastly, feel free to stretch any muscle that needs a little extra attention, you know your body better than anybody else.
Easy 2 minute jog
1 minute of air squats
Stationary lunges 20 per leg
Stretch out any muscle that feels tight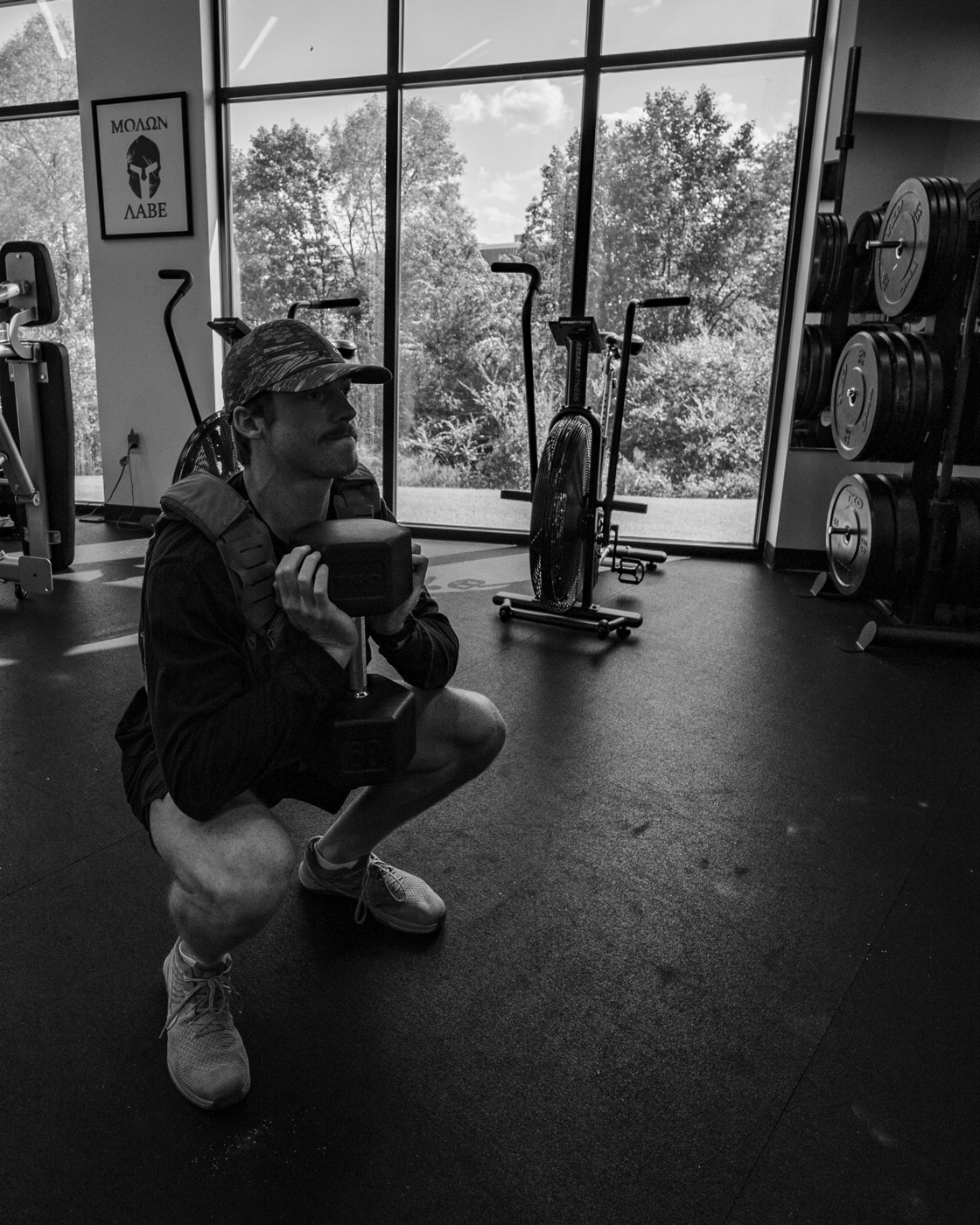 The Workout
Rounds 1-4 for time (optional weighted vest)
Round 1
10 push-ups
10 goblet squats 30lbs/15lbs
100m sprint
Round 2
20 push-ups
15 goblet squats 40lbs/20lbs
200m sprint
Round 3
30 push-ups
20 goblet squats 50lbs/25lbs
300m sprint
Round 4
40 push-ups
25 goblet squats 60lbs/30lbs
400m sprint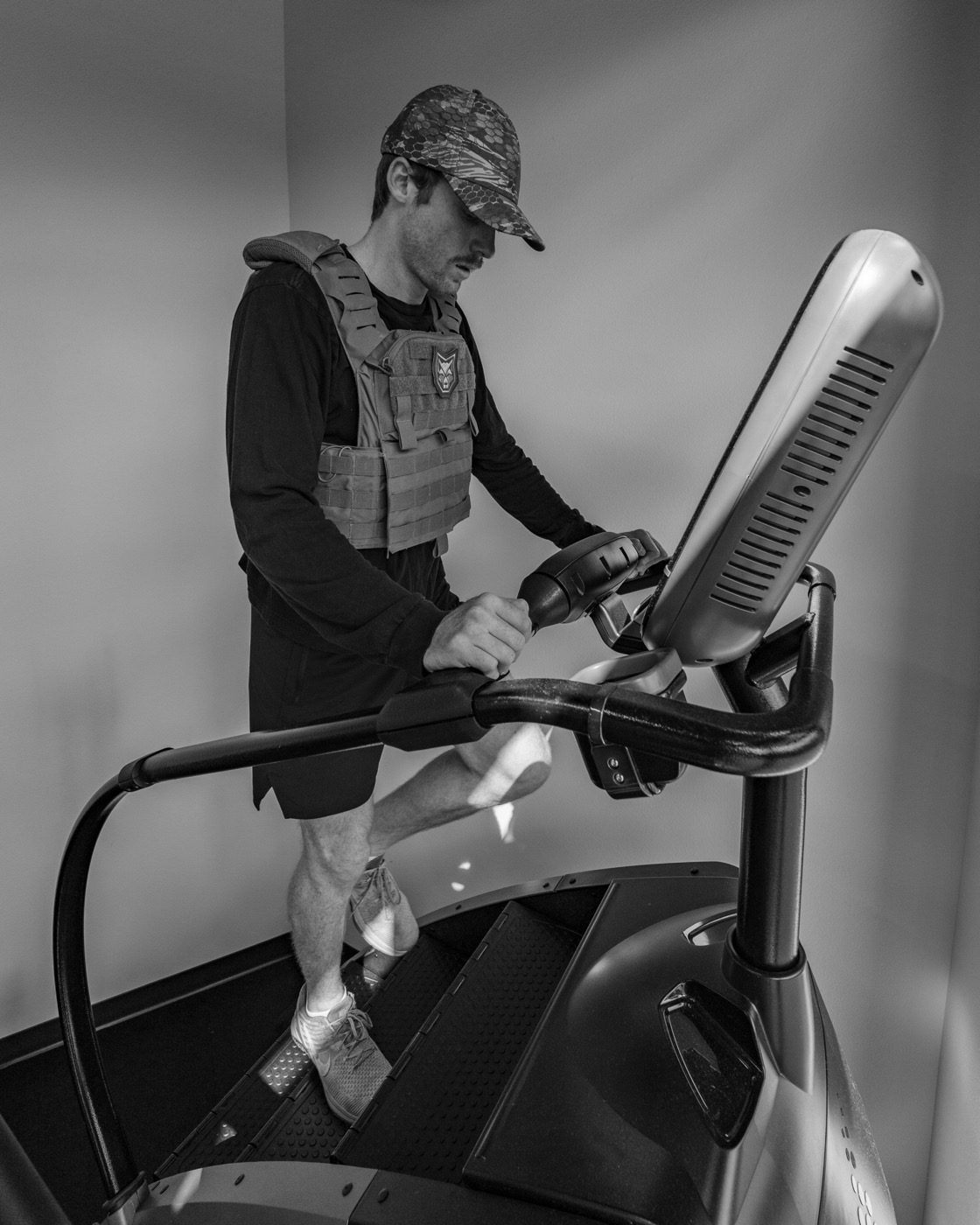 Finish off with 30 minutes on the StairMaster.
This is a simple workout with only 3 movements, but done properly can whip you into shape. We like the throw in the 30 minute StairMaster finisher to replicate packing out an animal to end your hunt. All the moments leading up to the shot is only half the battle and this workout resembles that.